FIRE RESCUE Operations
Seminole Fire Rescue
9199 113th St
Seminole, FL 33772
(727) 393-8711x206
Fax: (727) 319-6583
Operations (Ops)
The mission of the Operations Division is to provide quality, cost effective emergency and non-emergency services to all citizens and visitors within the City of Seminole and the unincorporated greater Seminole service area of Pinellas County, while maintaining the safety of our response personnel.

The City's Fire Rescue Department has earned a Public Protection Classification rating of 1 by the Insurance Services Office. The Department is responsible for responding to calls for medical emergencies, fires, hazardous materials incidents, technical rescue incidents, a variety of public assist requests and providing medical coverage for community events. The Department operates from four fire stations strategically located throughout the community. The City employs sixty nine firefighters, thirty-four of whom are paramedics. Personnel staff four Advanced Life Support (ALS) engines, one Advanced Life Support (ALS) squad, one Basic Life Support (BLS) 105 ft. ladder truck, and one District Chief vehicle.

Through a partnership with the city of Madeira Beach, the department provides contract fire protection services and Emergency Medical Services for the towns of Redington Beach, North Redington Beach, and Redington Shores. The department also provides fire protection and emergency medical services through a contract with the Bay Pines Veterans Administration.

The City's Fire Rescue Department participates in the countywide Pinellas County Hazardous Materials Response Team (PCHMRT) by providing trained Hazardous Materials Technicians and command staff for this team. The PCHMRT is made up of personnel from five fire departments located throughout Pinellas County.

The Assistant Fire Chief oversees all field operations and manages the Operations Division. The firefighting and medical services force is divided into three shifts each with twenty-three employees assigned. A District Chief manages each of the three shifts and a Lieutenant manages each crew. During 2014 the Pinellas County 911 center transferred 11,319 calls for assistance to our Fire Rescue Department. Eighty four percent (9,483 incidents) of these service requests were for medical assistance, including vehicle accidents while the remaining sixteen percent (1,836 incidents) were related to fire alarms, fires, hazardous materials responses, public assists, etc. The average emergency response arrival time after dispatch district wide is four minutes and thirty seconds (4:30). Many incidents require multiple units to respond. The current service area includes approximately 85,000 residents and covers twenty-five square miles.

The men and women of the City of Seminole Fire Rescue Department take their jobs and individual responsibilities very seriously. Their dedication to excellence keeps the Department's performance among the best in the State of Florida.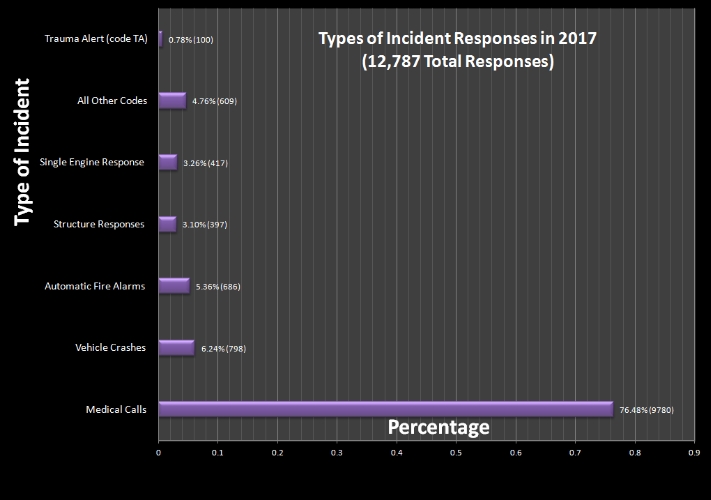 Link to Pinellas County 911Current Activity
http://www.pinellascounty.org/911/actcallspub.htm

Station 29
11195 70th Ave N.
Seminole, FL 33772
Unit ID

Name

Type

Make

Year

D-29

District 29

Command

Ford F250

2010

E-29

Engine 29

ALS Engine

Pierce/Impel

2012

S-29

Squad 29

Squad

Pierce/Contender

2006

T-29

Truck 29

105' Ladder

Pierce/Dash

2000

M-29

Marine 29

Boat

Carolina Skiff  

2014

Station 29 units responded to 5,319 in 2014
Station 30
8971 Starkey Rd.
Seminole, FL 33777
Unit ID

Name

Type

Make

Year

B-30

Brush 30

Brush Truck

REO 2.5 Ton

1966

E-30

Engine 30

ALS Engine

Pierce Impel

2009

P-30

Reserve Engine

ALS Engine

Pierce/Enforcer

2006

H-30

Haz-Mat 30

Haz-Mat

Freightliner

2010

Station 30 units responded to 2,740 in 2014
Station 31
13091 88th Ave. N.
Seminole, FL 33776
Unit ID

Name

Type

Make

Year

 

E-31

Engine 31

ALS Engine

Pierce/Enforcer

2002

Station 31 units responded to 1,434 in 2014
Temporary Station 32
10623 106th Ave N.
Largo, FL 33778
Unit ID

Name

Type

Make

Year

P-32

Reserve Engine

ALS Engine

Saulsbury

1998

E-32

Engine 32

ALS Engine

Pierce/Empel

2014

Station 32 units responded to 2,805 in 2014