Seminole Recycles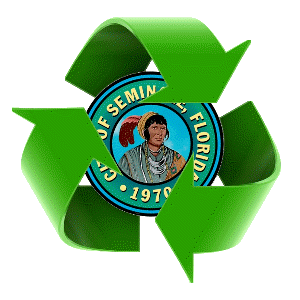 Why Recycle? - It is vital to recycle and reduce waste here in Pinellas County because we have only one landfill. Recycling helps to conserve landfill space and ensure a sustainable future.
Did you know that over 75% of the trash in Pinellas County could be recycled?
Please visit the links below for lots of useful recycling information.
Please visit the link below to access Pinellas County's Recycling Directory.
http://www.pinellascounty.org/solidwaste/pdf/recycle_today.pdf
You may visit the link below to access Pinellas County's A-Z guide.
This guide tells us how to recycle or safely dispose of just about anything.
http://www.pinellascounty.org/solidwaste/getridofit/default.htm
View Waste Management's "Recycle Right" video by clicking on the link below:
https://www.youtube.com/watch?v=HX2pwgMvY6w
View Fox Tampa Bay's tour of Waste Management's Material Recovery Facility (MRF) in Tampa, by clicking on the link below:
Recycling FAQs
Can I recycle plastic bags?
Not in your curbside or drop-off container. Never place your recyclables in a plastic bag, always place recyclables loose in your recycling container.
Plastic bags are the #1 contaminant. You can reuse bags, or drop them off for recycling at local stores. Better yet, try to reduce use of plastic bags by using recyclable bags or decline taking when buying only a few items. Plastics bags placed in residential recycling programs become entangled in the sorting equipment at the MRF and can shut it down. One issue is that plastic bags can clog or damage recycling machinery. Also, if a load of recycling has foreign materials mixed in – such as plastic bags or garbage – a recycler may reject the entire load and send it to a landfill.
Can I recycle Styrofoam containers?
Not in your curbside or drop-off container. During processing, Styrofoam breaks apart and contaminates recyclable products. Styrofoam egg cartons and clean food trays only can be recycled at Publix Grocery Stores.
Should I remove the caps on plastic bottles?
No, caps should be left on the bottle. Plastic caps may be recycled if they are left on the bottle; if it is just the cap, place it in the garbage. Recycling processing facilities use optical readers to sort plastics and the caps are too small to be identified, so they end up improperly sorted, which can lead to damaged equipment or being mixed with unlike materials.
What is mixed paper recycling?
Mixed paper is defined as any clean, dry paper item that tears. This includes white paper, colored paper, catalogs, magazines, junk mail, wrapping paper, phone books, folders, sticky notes, and paperboard items such as shoe boxes. You cannot recycle paper that does not tear easily such as foil wrapping paper. Also you cannot recycle paper towels or tissues.
How do I dispose of electronics and/or chemicals?
You may either drop items off at the Pinellas County Household Electronics & Chemical Collection Center located at 2855 109th Ave N, St. Petersburg, FL 33716;
http://www.pinellascounty.org/solidwaste/swapshop.htm or visit a Pinellas County Mobile Collection Event.
Visit http://www.pinellascounty.org/solidwaste/PDF/mobile_collection_schedule.pdf for a schedule of upcoming Mobile Collection Events.
Please visit Pinellas County Utilities' Recycling website at http://www.pinellascounty.org/utilities/recycle.htm 
for answers to many recycling related questions.